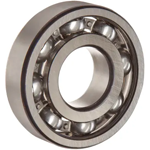 Deep groove ball bearings
What is Deep groove ball bearings?
Deep groove ball bearings are a type of rolling bearing. Rolling bearings are an essential component of rotating or oscillating machine elements. They help support and guide rotational movement and transfer loads between different components, such as axles, shafts, and wheels. Ball bearings are a type of rolling bearing that have a ball rolling element. This ball sits in a ring raceway, or groove, resulting in a relatively low contact area. The reduced contact area decreases friction but limits the weight the bearing can carry. Ball bearings are traditionally used in high-speed, low-load applications, where their reduced friction, noise, and vibration help prevent excess wear and tear. Ball bearings typically accommodate radial loads or loads that are perpendicular to the shaft. While some ball bearing types can handle axial loads (parallel to the shaft), they're typically limited to extremely low carrying capacities. Deep groove ball bearings are similar to traditional bearings but have raceways that closely fit the dimensions of the balls that run in them. These deep grooves result in balls that are more stable and can handle higher loads than shallow-groove bearings.The basic deep groove ball bearing consists of an outer ring, an inner ring, a set of steel balls and a set of cages. There are two types of deep groove ball bearings: single row and double row. The deep groove ball structure is also divided into two types: sealed and open. The open type means that the bearing does not have a sealed structure. The sealed deep groove ball is divided into dust-proof seal and oil-proof. seal. The material of the dust-proof sealing cover is stamped steel plate, which only serves to prevent dust from entering the bearing raceway. The oil-proof type is a contact oil seal, which can effectively prevent the grease in the bearing from overflowing.
Compared with other types, the deep groove ball bearing has a simple structure and is easy to achieve higher manufacturing accuracy, so it is convenient for mass production in series, and the manufacturing cost is also low, and it is extremely common. In addition to the basic type, deep groove ball bearings also have various modified structures, such as: deep groove ball bearings with dust cover; deep groove ball bearings with rubber seals; deep groove ball bearings with retaining grooves; Deep groove ball bearings with large load capacity with ball notches; double row deep groove ball bearings.
What is a grooved bearing?

Spiral groove bearings (also known as Rifle bearings) are self-acting (journal and thrust), or hydrodynamic bearings used to reduce friction and wear without the use of pressurized lubricants. They have this ability due to special patterns of grooves.
The working principle of deep groove ball bearing:
The imported deep groove ball bearing is mainly used to bear pure radial load, and can also bear radial load and axial load at the same time. When it is only subjected to pure radial load, the contact angle is zero. When the deep groove ball bearing has a large radial clearance, it has the performance of an angular contact bearing and can bear a large axial load. The friction coefficient of deep groove ball bearings is very small, and the limit speed is also high. Especially in high-speed operation conditions with large axial load, deep groove ball bearings are more superior than thrust ball bearings.
The main uses of deep groove ball bearings:
Deep groove ball bearings are representative rolling bearings and are widely used. It is suitable for high speed and even extremely high speed operation, and it is very durable and does not require frequent maintenance. This type of bearing has small friction coefficient, high limit speed, simple structure, low manufacturing cost and easy to achieve high manufacturing precision. The size range and form vary, and they are used in precision instruments, low-noise motors, automobiles, motorcycles and general machinery and other industries. They are the most widely used type of bearings in the machinery industry. Mainly bear radial load, but also can bear a certain amount of axial load. Deep groove ball bearings can be used in gearboxes, instruments, motors, household appliances, internal combustion engines, transportation vehicles, agricultural machinery, construction machinery, engineering machinery, etc.
Model of deep groove ball bearings